#EP-2 : Bitcoin Narrative via Social Justice With EndSars Activist - Tosin Adesina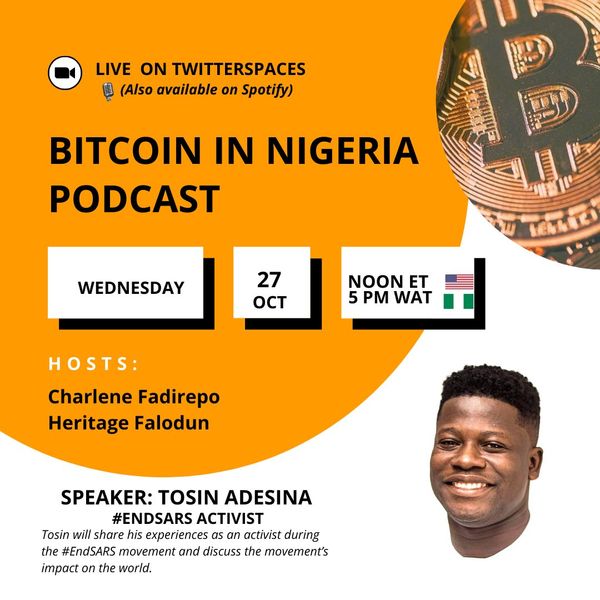 The Bitcoin In Nigeria podcast aims to expand the narrative of Bitcoin by giving voice to innovators, founders, ecosystem builders and early adopters that are leading the Bitcoin Revolution in Nigeria. This special episode of Bitcoin in Nigeria is centered on the social justice and human rights aspect of Bitcoin. The episode has been dedicated to the memory of those who lost their lives tragically during the #EndSARS protest.
The #EndSARS protest was a historic moment in October 20, 2020, where Nigerians across class and ethnic groups came together to protest police brutality. SARS stands for Special Anti-Robbery Squad, and the group is a branch of the Nigeria police force.The #EndSARS slogan is call for the disbanding of this police unit who has had a long history of abusing Nigerian citizens.
Bitcoin served as a tool for social justice in Nigeria
In this episode, co-hosts, Charlene Fadirepo and Heritage Falodun speak with #EndSARS Social Activist Tosin Adesina. In October 2021, Tosin hosted the #EndSARs 20 Days of Activism, from October 1st to October 20th in honor of the #EndSARS protest on the social media platform called TwittersSpaces. The event featured 23 speakers and over 10,000 cumulative attendees for the 20 Day period. In this episode of #Bitcoin in Nigeria, we discuss how #Bitcoin was used to support the #EndSARS activists during the protest. Listen to Tosin's riveting account of his experience on that fateful day in Oct of 2021, and learn about how he continues to do the work to advocate for a better safer and stronger Nigeria.